Shades of blue - Weighted Quilt - Handmade in Geelong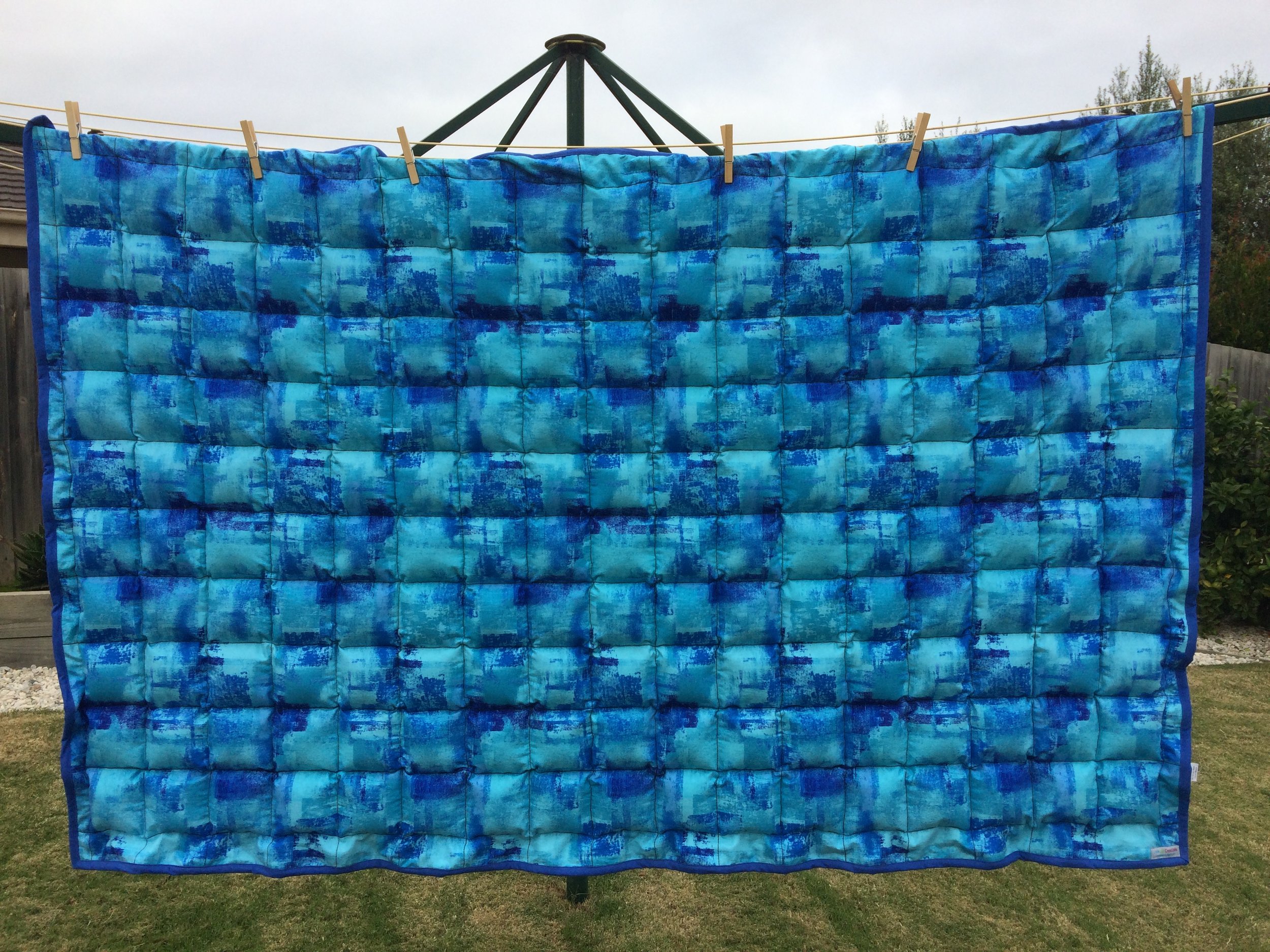 Shades of blue - Weighted Quilt - Handmade in Geelong
Shades of blue - Weighted Quilt - Handmade in Geelong, Victoria, Australia
Weighted Quilt - fully washable
Made to order - please allow up to 2 weeks to dispatch
- Blue blender cotton fabric on one side.
- blue minky dotted fleece on reverse side.
- blue cotton binding.
Additional two layers of cotton in between to hold poly pellets securely in place.
There are around 150 pockets on the quilt.
- Approx size 150 cm x 100 cm
- Available Weights = 2 kg up to 5 kg
My weighted Quilts are all beautifully bound using homemade cotton binding.
Secure stretch stitch construction. In addition, perimeter will be triple stitched to ensure no leakage of poly pellets.
Quilt is constructed of four separate layers, containing Poly pellets which are used to weight quilt.
CUSTOM ORDERS AVAILABLE - START A CONVERSATION WITH ME WITH REGARDS TO YOUR SPECIFIC COLOURS, FABRICS AND THEMES.
Weighted quilts, blankets and lap pads should always be used with adult supervision and on advice from your Occupational Therapist.
Weight of quilt or blanket should be 5-10% of child's weight, plus 0.5 kg (1 pound). Again, Occupational Therapist will advise.
Children under three years old should not use a weighted product.
Every effort has been made to ensure the poly pellets used in construction are secure in the four layers of fabric and triple stitching on outside perimeter. However, as with all types of fabric, care should be taken to ensure that no damage is done to the fabric or structure.
Wash on cold or warm wash, can be tumble dried on LOW setting, however, air drying is preferable, do not hang weighted products from the edge, as this could damage it, due to the weight involved.
Handmade in Geelong, Victoria, Australia by Wendy's Weighted Blankets